---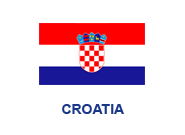 School:  Faculty of Food technology, University of Osijek
Category: Dessert
Short description: Extruded snack made out of corn, hemp and pumpkin seed press cakes, covered with yeast flakes.
Flipsos is a ready-to-eat, extruded snack, ideal for those who are looking for a healthy alternative to snacks. It is made of corn semolina, hemp and pumpkin seed press cakes, covered with a layer of yeast flakes and a little bit of sea salt. This snack has a pleasant taste of baked corn, pumpkin and hemp whereas nutritional yeast flakes give the snack a cheese associated aroma. Flipsos is rich in fiber and a good source of high quality proteins, obtained from pumpkin and hemp press cakes which are leftovers from the production of cold pressed oils. This way, instead of being used as animal feed, nutritionally rich ingredients are integrated into a healthy and tasty snack.
This snack has no added preservatives, colours, aromas, flavor enhancers or artificial additives. It does not contain allergens such as peanuts, lactose or gluten. It is a vegan product, made of natural ingredients and suitable for children and adults. Moreover, the salt and fat content are low in comparison to other snack products on the market, which makes this product suitable for people who try to avoid these ingredients in their diet. In addition, the utilization of supercritical carbon dioxide in the extraction of fats from press cakes and low water waste makes this production eco-friendly.
---