---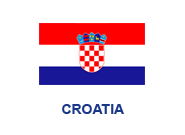 University:  Faculty of Food Technology and Biotechnology, University of Zagreb
Category: Bread and pastry, Breakfast, Dessert
Short description: Protein toast that seduces with its taste and cares for the environment.
CrOat, protein oat toast with fresh cheese is ecologically using food industry byproducts sour whey and pumpkin seed flour as nutritionally desirable components while also being categorized as high in protein without adding any protein isolates to the product. CrOat also cares for the environment by using organic biopolymer PLA (polylactic acid) as packaging instead of classic polymers.
CrOat is desirable for everyone, especially for those who are always in a hurry or those who hardly find to meet daily protein and dietary needs. Due to its practicability and simplicity of consumption, it is suggested to consume it as a part of a snack in any part of the day. It has a neutral taste with crispy bite that makes it easy to pair with any kind of toppings- sweet or salty, as you wish!
To increase your experience, of course, always toast just before usage!
---